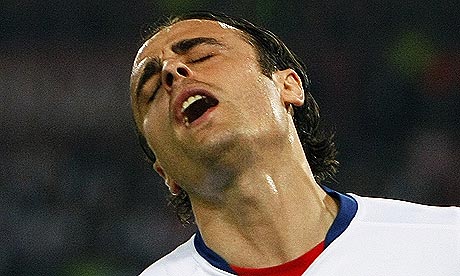 Dimitar Berbatov's dip in performances levels have been so dramatic since he set the premiership a light in his first two seasons at White Hart Lane compared to well two mediocre at best seasons for Manchester United.
Since he's move from Tottenham many of United's fans have had no problem displaying there disdain for the Bulgarians style of play which at times he can look very lackadaisical considering he is the club most expensive buy in its long and highly dramatic history.
Personally the last two seasons for me has been torture watching him because I adored him at Tottenham I would watch there games just to see him play and when I patiently waited the last few weeks of August 2008 wishing to see him sign and endure a deadline day which saw Manchester City taken over and have a 30 million bid accepted for him put me in a pretty antagonistic mood only to hear he was on his way to United and finally to hear he was confirmed as a United player at around 12:40 am or something like that I was pretty ecstatic.
I spent the next few days telling everyone how great a signing he would be and that Manchester United would be an unstoppable force that season and I had zero doubt in my mind I would be right.
Well that prediction has come back to seriously bite me in the ass. Since that day I've had many heated arguments with friends, family and other fans about Berbatov and I kept saying that I was sure he was going to come good eventually, and besides his brilliant piece of skill against West Ham and his sensational bicycle kick against Sunderland he had done little to back up my argument.
For me I think the problem with Berbatov is he's a type of player that needs to be the top dog at his club, he has to be the person players rely on for a piece of magic, a player who other players also pass the ball to first etc. He was that at Tottenham however at United he isn't the big man not with a certain Wayne Rooney around anyway. Last season he didn't score against any one in the top 7 of the league.
However at Tottenham he regularly scored against the likes of Manchester United, Arsenal and Chelsea. So there is no doubt that his confidence has taken a hammer blow during his time at United.
At the 18 games I attended last year, he failed to score in any one of those games. To say my confidence in him is at an all time low is a massive understatement. I felt that to regain confidence within himself and wipe the slate clean with the fans he had to score a really big goal in a really big game. He had chances against Bayern Munich and Chelsea and had he scored then I think I wouldn't be writing this blog now, but alas he failed miserably.
If he stays in Manchester past the transfer window then every single United fan will say he has to produce this season or he is out the door, and he has to do it fast or else the impressive 'Chicharito' will take his place. I will still back him like every other United player when he takes the field next season and I plead for other United fans to do the same because we are Manchester United supporters and we all need to back all our players no matter how good, bad or awful they play.
Save the complaining for debates in pubs before and/or later the game but when he takes the field give him some encouragement, because you never know that might be the only thing he needs.
If he does start the season in good form then I think he can still be a fantastic player for United, while there is no doubting his class we need more from him considering his price tag and unless he produces this season then we can almost guarantee that the 2011-2012 season will not have Berbatov as a Manchester United player.
Here's a video I made of him a few months ago to show how good he can be.