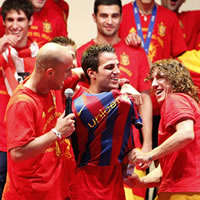 Arsenal skipper Cesc Fabregas is set to stay at the Emirates this season according to his Spanish team-mate Andres Iniesta.
La Liga champions Barcelona have been linked with the tenacious central midfielder all summer but are now resigned to missing out on their top transfer target and will reignite their interest next year.
Barca ace Iniesta, who led his country to World Cup glory with the winning goal against Holland in the final, has spoken to Fabregas and admits his international team-mate wants one more campaign at the Emirates to have a final crack at winning the Premier League.
Iniesta told reporters:
"Cesc [Fabregas] wants to be with us, but he told me how close the Arsenal fans are to his heart."

"He is a special player and I hope he wins the title at Arsenal this season. For them to win Cesc will have to stay fit and injury-free, but he deserves to finish with a title. For all the work and effort he has put in at Arsenal it would be a shame if it was all fruitless."

"I have seen time after time Lionel Messi win games for Barcelona when the rest of the team have not been on form and Cesc can do that for Arsenal this season."
Iniesta, who along with several other Barcelona stars have made no secret of their desire to see Fabregas return to his boyhood club, has made it clear he hopes to link up with the Arsenal captain next season.
And Iniesta hopes that Fabregas fulfills his ambition in England next May and finally gets his hands on the coveted Premier League title.
"Arsenal are not as strong as Chelsea. But they try to play football the way it was intended to be played and that should be rewarded."

"Cesc is such a special player that he could carry a team to the title on his own and I hope he does it this coming season."

"It would be brilliant if Arsenal's hero could lift the title as captain during his last season. I think that it would be fantastic for everybody."
He added.