The MLS playoff spots have been officially decided and 12 teams are advancing to the knockout rounds. The first round of the MLS playoffs will be played on October 28th and 29th to determine who advances to the conference semifinals. The top two teams in each conference are automatically in the conference semifinals and will play the winners of the 1st round. The first round playoffs are set up so on each conference, 3rd place plays against 6th place and 4th place plays against 5th place.
In the Eastern Conference, New York Red Bulls and Columbus Crew are the top two teams in points and are safely in the conference semifinals. Montreal will be playing against Toronto in the 1st round of the MLS playoffs, in a rematch from last Sunday's game. These two Canadian clubs are both making their debuts in the MLS playoffs. Montreal were victorious when they last played, coming back from 1 goal down, to winning 2-1 with Drogba finding the back of the net twice. Toronto also have an all-star player in Sebastian Giovinco. Giovinco is currently the joint top goal scorer in the league with 22 goals this season.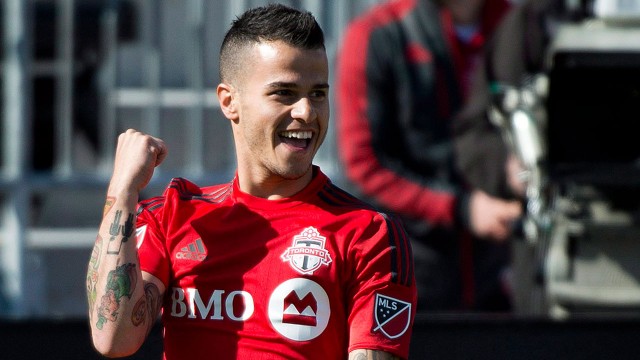 The other 1st round game is being played between DC United and New England Revolution. New England played against New York City FC earlier this week and walked away with a 3-1 victory. New England also currently hold the record for the longest unbeaten streak (9 games) and the longest winning streak (6 games) earlier this season. DC United, on the other hand, are coming off of an embarrassing 5-0 loss to Columbus Crew last Sunday.
In the Western Conference, the points are extremely close and Dallas and Vancouver are the two teams who advanced to the conference semifinals. In the Western Conference, places 2 through 6 are separated by just two points. Portland Timbers will be playing against Sporting Kansas City in the first round of the playoffs. Kansas City clinched their place in the playoffs last Sunday with a win against LA Galaxy. Portland Timbers are also coming off of a win against Colorado Rapids as they won 4-1 last Sunday.
The final match in the 1st round will be between Seattle Sounders and LA Galaxy. LA Galaxy slid down from 2nd place to 5th in the conference table after last Sunday's loss to Kansas City. Seattle, however, are in good spirits with a win last Sunday against Real Salt Lake. LA Galaxy may be in trouble as they are on a 3 game winless streak and Seattle are currently on an 8 game unbeaten run.
From the new teams of Montreal and Toronto, to the reigning champions of LA Galaxy, everyone is capable of winning. The MLS, original and unique to the United States, can be very unpredictable but always extremely competitive. The MLS playoff field is set and it is anyone's guess as to who will lift the trophy in December.