With the new season just around the corner, I thought it would be the perfect time to add my views of the year ahead. I was left kicking myself at the end of the last campaign by not putting any bets on what I thought would happen, having backed Chelsea to win the league and FA Cup as well as Didier Drogba ending up as the top Premier League goalscorer.
This year I just might be more tempted to put my money where my mouth is, but for anyone following my lead, don't blame me if it all goes wrong.
The Title
Having backed Chelsea last time around, I feel that this season's team is well equipped to retain the trophy. The core of key players from back to front Petr Cech, John Terry, Frank Lampard and Drogba are still at the club and never let their team down. Player's like Joe Cole and Michael Ballack have left but have been replaced by equally talented midfielders in Yossi Benayoun and Ramires.
As well as the new signings, the Ghanaian powerhouse Michael Essien is back after missing most of last year through injury. It seems strange to say that he was sorely missed by the double winners, but with him back in the side, it gives Chelsea another edge which could prove decisive not only in domestic football, but in the competition that has eluded them since Roman Abramovich's arrival, the Champions League.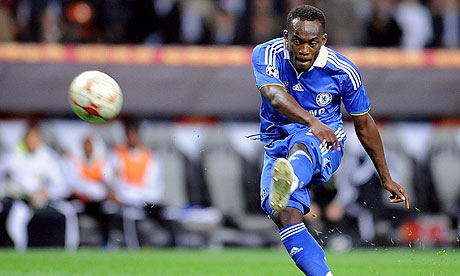 I'm never one to go against Sir Alex Ferguson's Manchester United side and I fully believe that they'll be right up there until the final moments of the season. When the Reds finish second one year, they're usually more fired up than ever to reclaim their crown the next, and time and time again after being written off they end up proving all their doubters wrong.
It seems like it could be Ryan Giggs, Paul Scholes and Gary Neville's last season at the club and they won't want to go out with a whimper. An interesting player that a lot of people are looking forward to is the Mexican Javier Hernandez who had an impressive World Cup and has made an impact in pre-season.
With last season's top two looking likely to battle it out for the title again, I feel their strongest challenger could be Manchester City. It would be foolish to rule out a team who has made summer signings like Yaya Toure and David Silva, but it looks like this side is still another year or two from winning the title.
A good start to the season and the quick gelling of the new boys could very well lead to this City side putting in a title challenge. Their first objective must be to finish inside the Champions League positions and having come so close last year, I don't think they'll be missing out this time around.
Fourth Spot 
This season it looks like it could be a three-way scrap between Arsenal, Liverpool and Tottenham for the final Champions League spot. The most likely to end up in that all-important position is Arsenal who haven't finished outside fourth spot in nearly 15 years. If that record was going to end, then it seems like this year is the most likely.
Despite having one of the best attacks in the league, there are huge holes at the back, which threaten to derail the Gunners' campaign. The speculation will continue over Cesc Fabregas' future, although it is a question of when and not if he leaves for the Nou Camp.
Having finished 7th last season, Liverpool will be looking to bounce back. The most important piece of business for them this season has been retaining the services of their two gems, Steven Gerrard and Fernando Torres. The signing of Joe Cole could also prove to be an inspired move, and I feel that the new manager Roy Hodgson will get the best out of his players. I wouldn't entirely rule out a higher league finish for the club, but just as in the case of Arsenal, you can't rely on two or three key players to be at their best for an entire season.
My tip for the top goalscorer would be a fully fit Torres and I have a feeling that the Merseysiders can end their recent trophy drought in the form of an FA Cup or Europa League win. However, if either of their top two are out for whatever reason, they may just struggle again.
Tottenham were the surprise package of last season and Harry Redknapp has done a fantastic job at the club. He has transformed a lot of potential into reality for the Spurs fans who will have high hopes again this season. Although I don't think that they will manage a finish as high as last time around, the team looks strong and a finish in the top six would represent another good campaign for the Londoners.
Relegation
Aside from the teams that finished in the top eight last season, it looks like everyone else in the division will be fighting to keep their Premier League status.
The obvious choice of club that everyone agrees on to go down would be Blackpool. The Seasiders have done amazingly well just to get to English Football's top league but I just can't see anything other than a return straight back to the Championship.
Another team many feel will drop straight back down a division is West Brom. The club is caught in a Catch-22 situation whereby they don't seem to be good enough to survive in the Premier League yet they always seem to have a team able to gain promotion from the Championship. The way they are run means that they will continue to be a so-called 'Yo-yo' club, though I'm sure their fans would rather they don't spend beyond their means and get into debt like Leeds and Hull have before them.
The next choice is slightly harder and where opinions will differ most. A whole group of clubs look to be under threat next season including Wolves, Bolton, Sunderland, Stoke and Newcastle. The team I feel is most at risk though is Wigan. Last season you really didn't know what you were going to get from them. They beat Arsenal, Chelsea and Liverpool at home yet suffered shocking defeats in London, losing 9-1 at White Hart Lane and 8-0 at Stamford Bridge.
Only Burnley conceded more goals than they did last year and Martinez desperately needs to shore things up at the back. The team needs a lot more consistency from each game to the next otherwise I fear the worst for the team and the manager, who is amongst the front runners to be the first boss to get the chop.
Premier League Winners: Chelsea
Champions League: Chelsea, Manchester United, Manchester City, Arsenal
Europa League: Liverpool, Tottenham, Everton
Relegation: Blackpool, West Brom, Wigan
Top Goalscorer: Fernando Torres