Manchester United may have 7 points from their opening 3 games in the Premier League, but honestly, there are more questions than answers that have emerged. Despite keeping a clean sheet in every one of those matches, Louis van Gaal's side have scored just twice, with one of them being an own goal and the other a deflected effort. They clearly are struggling up front.
The Dutchman made some very good signings in the summer, bringing in Morgan Schneiderlin and Bastian Schweinsteiger to shore up things in midfield. This has clearly helped, with United looking a lot more secure at the back. The arrival of right-back Matteo Darmian has also added a lot to the side.
Lack of pace up front
United's biggest and obvious fallacy thus far though, has been their lack of pace and thrust going forwards. Memphis Depay, brought in from PSV Eindhoven in the summer, has looked lively but is yet to find his scoring boots in the league. Van Gaal has experimented with the other front players, playing Juan Mata out wide and Adnan Januzaj in the number 10 position in the last two games. Ander Herrera, in the process, has been left out.
The biggest problem though, has been the form of Wayne Rooney. The Englishman has still not opened his account for the season, and has in fact not found the back of the net since April. With Robin Van Persie and Radamel Falcao both leaving the club in the summer, Rooney's failures have left a void no one else can fill.
An innovative solution
Van Gaal though, has come up with a plan that cannot be described as nothing other than out-of-the-box. It was reported yesterday in the Guardian that he is looking to Marouane Fellaini, a natural central midfielder, as his front-line striker. The Belgian is a completely different player to Rooney, but has flourished under Van Gaal after a poor first season at the club under David Moyes.
"He can play in a 9 position and in a 10 but also 6 and 8 but this year he shall play more 10 and 9 than 6 and 8 because there [in midfield] we have more players," said Van Gaal.
This is something he is likely to try out in the second leg of United's Champions League qualifier against Belgian side Club Brugge tonight. The Red Devils have a 3-1 lead from the game at Old Trafford last week, and it was Fellaini who got the vital third goal with a header.
How to make it work
Fellaini will be the target man, and will use his height and strength to hold the ball and bring others into play. United though, have nobody to run in behind from midfield, with Mata, Rooney and Januzaj all preferring to drop back and act as playmakers. Schneiderlin and Schweinsteiger sit in front of the back 4 and don't get into the box much. It therefore makes it even more surprising why United chose to opt out of the race for Pedro, who has instead joined Chelsea and made an instant impact.
Rooney can be played as the number 10, if Fellaini is up front. This will certainly help the former have more of an impact, as he will be able to get into more goalscoring positions as well use his passing ability to slide in balls to the likes of Depay. At 5 feet 9 inches, he is hardly the ideal target man, and this is what has rendered so ineffective this season.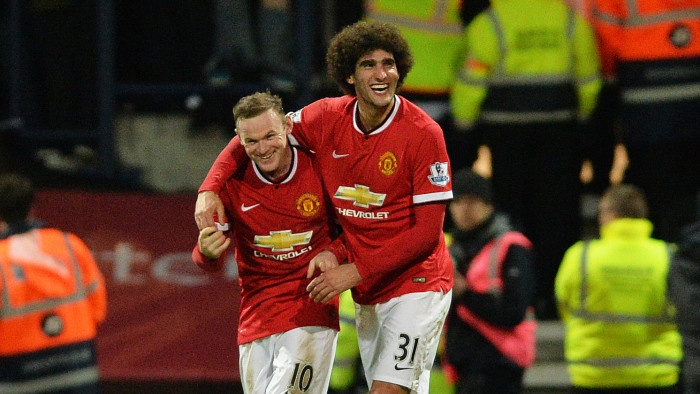 There is little doubt that some sort of change is required, and with no new signing on the horizon, Van Gaal will have to look within. Playing Fellaini as the striker is sure to raise the eyebrows, and whether it works or not remains to be seen. The form of Rooney is also a big concern, but he could flourish if given more freedom and played slightly deeper. This in, turn, could affect the playing time of the likes of Januzaj and Herrera. The conundrum seems to go around in circles, but is something the manager has to find a solution to sooner rather than later.