Rangers striker Kris Boyd is reportedly on the verge of deciding between pre-contract agreements from Aston Villa and Birmingham City.
A strong rumour circulated Rangers' fans forum websites last night and their nightmare became a reality when Sky Sports News confirmed this afternoon that according to their sources, Boyd was in talks with Martin O'Neil and Alex McLeish. Boyd has 19 goals this season and the fear around Ibrox is that if Kris Boyd is sold then Rangers will not win the SPL Championship.
Boyd has enjoyed success under Walter Smith
The departure of the Rangers striker has been a possibility ever since Walter Smith publicly confirmed in October that the banking group Lloyds were effectively running the football club. After the 1-1 draw with Hibs back in October, Smith said: "As far as I'm concerned the bank is running Rangers. Sir David has stepped down and a representative of the bank has been placed on the board. It's not a situation anybody wants the club to be in. And it's not the bank's fault as they are not going to invest in a club.
"We haven't bought a player in nearly 18 months but I'm not going to complain because I'm perfectly aware of the situation.
It is believed that the bank had sanctioned a contract offer for the Rangers striker with an increase on his current contract, but despite Boyd wanting to stay and being a life-long Rangers supporter, the fans aren't too confident of Boyd remaining at Ibrox past next season. This could spark a major uproar from the Rangers support as Rangers Supporters Trust Spokesman David Edgar admitted the Rangers fans would be happy to boycott season-tickets for next season if Boyd was sold.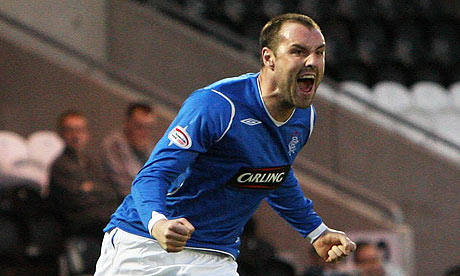 Boyd is adored by the Rangers fans and would be sadly missed
As a Rangers fan, I have to admit if Kris Boyd was leave to Rangers it would stink of a complete lack of ambition. Boyd will win Rangers the championship, he has improved his overall game significantly and if he continues to score goals and improve his technical skills then he could be a regular starter for Rangers, even in 'bigger' matches like Celtic or Champions League games were he was previously overlooked. There is no better striker available to Rangers, there is no better striker in Scotland and Rangers simply won't be able to sign a replacement.
However, if Boyd was to leave, you have to question if he really was a "life-long" Rangers fan. The former Kilmarnock striker has been offered an increase, so why not sign it?
No disrespect to the clubs interested in Kris Boyd, but I simply cannot see any reason why Kris Boyd would want to leave Rangers. He is getting a relatively good amount of money, the chance to win titles and trebles, the chance to play Champions League football and play infront of a support that adores him. Why would you go to Villa or Birmingham if the reason wasn't money-orientated?
One things for sure, Rangers will want something sorted over the next few days and the nightmare that the Rangers tried to dismiss, is now becoming reality.