Well here we are. 62 games played and only the 3rd place play-off left along with masterpiece of a mouth-watering final featuring Spain against the Netherlands. Both nations have players who've played in Champions League winning teams yet the importance of this game is on an entirely different magnitude.
46 million people in Spain and another 6 million in Holland will be holding their breath as their squad tries to write history and become the first team in their country's history to win the FIFA World Cup. The Netherlands and Spain will come to a standstill as 8.30 p.m. in Soccer City, Johannesburg arrives and the hopes of 2 countries will rest on 46 men's shoulders. The pressure is unmeasurable. The winning feeling is unequivocal to any in world football. And the stakes are stratospheric.
Welcome to your destiny Spain and the Netherlands.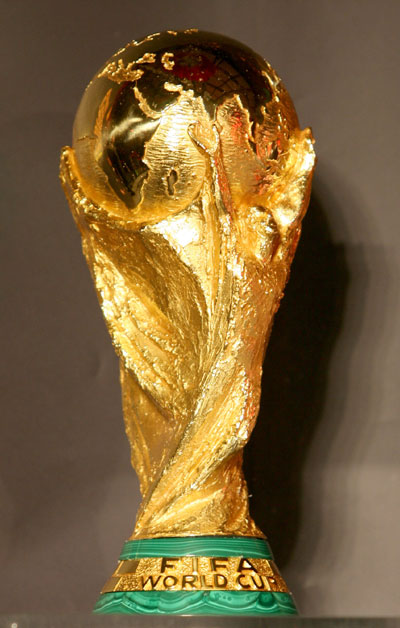 Both teams qualified for this tournament will relative ease, each topping their groups with games to spare. Spain entered the competition as odds on favourites at 9/2 and the Dutch as joint 7th favorites with Germany at 12/1. Both teams were known as international underachievers until now. And they are, until one of them wins the World Cup. Which is why the burden to win this time is almost unbearable.
For Spain, they are in uncharted territory as this is Holland's 3rd ever final, as they fell at the final hurdle consecutively in 1974 and 1978. The weight of history will certainly be on their minds as they line-out Sunday night. The pressure will be on the managers to navigate their team to the ultimate glory.
Spain began the tournament in a peculiar manner. Losing their first game to Switzerland 1-0, who put on a defensive masterclass, they quickly got back on track with a 2-0 win over Honduras followed up by a 2-1 victory over Chile. From these games, La Fuira Roja progressed through the gears after a slow-burning start.
David Villa was turning out to be the catalyst for the team as his magical goals not only propelled him to joint top with Sneidjer for Golden Boot, but also sent Spain to the top of their group as they waltzed to the knock-out stages. Cristiano Ronaldo's Portugal awaited them in the last 16 ties and they were made to work hard for their 1-0 victory again with Villa scoring to beat the almost invincible Eduardo.
Great fortune was needed against Paraguay as Oscar Cardozo and Xabi Alonso missed penalties before again Villa conjured up a winner in the 83rd minute via the inside of the post. And most recently yesterday, they out passed a very strong German team who disposed of England and Argentina with goals to spare on each occasion.
Spain have their squad overloaded with amazing talent as they can't find a place for Fabregas or David Silva on their team. Xavi and Iniesta have orchestrated the progress of this team as Xabi Alonso and Sergio Busquets marshall and dictate the midfield. The pass masters have a suspect defence with Ramos, Puyol, Pique and Capdevila not having the greatest of attention spans as exposed against the Swiss.
Iker Casillas, their captain, however has shown already in the last month why he is one of the best 'keepers in the World Cup on the basis of some brave, reflex and crucial saves. Up front they have the most in-form striker in the world, David Villa. Combining his lethal finishing with an ability to create a goal from nothing makes him virtually unstoppable at the moment.
Whoever gets the other midfield slot the next night is up for debate or Torres might even get a recall. In any case, whatever the starting XI, the Dutch will have to be at their sparkling best to deny the Spaniards their maiden global glory.
The Netherlands negotiated their way through a tricky enough group with maximum points as they opened up with a 2-0 win over Denmark, a 1-0 triumph over Japan and a 2-1 victory against Cameroon. The Flying Dutchmen continued their winning streak beating Slovakia 2-1 in a closely fought contest.
Next up were 5 time winners Brazil who looked likely to win their 6th. After going 1-0 down at half-time, they stormed back in the second half and portrayed their credentials as serious contenders by winning the game 2-1 in a fantastic display of perseverance and discipline with Sneidjer, the main man in Brazil's downfall. They eventually got the better of a dangerous Uruguay side in the semi-final as they came out on top in a 3-2 win.
The Dutch came into this World Cup with several top class players like Robben and Sneidjer in great form. These two are what makes the Dutch tick and create their goals. On their day, they are unplayable and they are backed up by the brutal duo of Nigel de Jong and Mark van Bommel protecting the defence behind them.
With Dirk Kuyt on the opposite wing to Robben, they have a man who works tirelessly and will never leave Spain a moment on the ball. Up front they have the classy van Persie who has so far been indifferent with his form but has shown glimpses of his genius. Gregory van der Wiel returns from suspension along with de Jong as he joins Heitinga, van Bronckhorst and Mathijsen in defending the Netherlands goal who will have their work cut out by the star-studded pass masters of Spain.
Maarten Stekelenburg is the only weakness as his uncertainty with dealing with long-range shots is less than great.
So the dream final between two European heavyweights has only 3 days to go and the excitement is rapidly increasing. Whatever the result, football will definitely be a winner.
In my opinion, the creativity and sheer wizardry of the Spanish team will be enough to overcome a resilient and efficient Holland team who will lose out as hero's in a 2-1 win for Spain. However, if you are unhappy with my prediction perhaps you can ask Paul, the phychic octopus!