Chelsea's clash with Manchester United at Stamford Bridge on Saturday will be extremely intriguing to say the least. It always is, you might say, but this time it's not only because of the big names on show. The Blues are runaway leaders of the Premier League and are just 4 victories away from sealing the title. The Red Devils, on the other hand, are the most in-form team in the league along with Arsenal, and look capable of beating any side on any ground. They come into this game on the back of a 4-2 win over their neighbours and defending champions Manchester City.
Jose Mourinho and Louis Van Gaal are two of the most tactically shrewd managers in the league, and hence this will be a match that may be won on nuances. It may not be an end-to-end exhibition of open, expansive football, but you can bet that an almighty battle will ensue.
When these two sides met back in Old Trafford, Chelsea were a minute away from winning all three points before Robin Van Persie blasted in a last-gasp equaliser. Despite nearly emerging victorious, the Blues' players were kept quiet by Van Gaal's tactics. United, who looked jaded and out-of-sorts at that point in the season, were more than happy with the point.
In this game too, some key battles between some key individuals will decide who emerges victorious. We pick out three of them:
1) Eden Hazard vs United's right flank:
Any build-up of a Chelsea game has to feature Eden Hazard, such has been the Belgian's influence on Mourinho's side this season. In the year 2015, his team have looked out-of-sorts more often than not and it has been upto Hazard to single-handedly choreograph a victory. Not that he has complained, or fallen short of expectations.
Keeping him quiet cannot be a job assigned to one man. If the right-back is isolated against Hazard, there will only be one winner. It is therefore imperative that the right-winger helps his fullback double-team the Chelsea's talisman. Hazard, favourite to win the Premier League Player of the Year Award for this season, will be licking his lips at the prospect of facing a winger-turned-fullback in Valencia. And with the rest of the United midfield not too adept at fulfilling their defensive responsibilities, Van Gaal needs to be very careful that the Chelsea winger doesn't rip his side apart.
2) Nemanja Matic vs Michael Carrick:
This is a game that will be won by the side that wins midfield. Mourinho is expected to set up to close all the gaps and stop United from playing. Nemanja Matic versus Michael Carrick may not be a one-on-one battle, but as the senior-most central midfielders from their respective sides, they will be key. Matic, after an outstanding first half to the season, has faded slightly of late. Carrick on the other hand is growing more and more influential for Untied by the week. It will be upto these two to determine which side dominates possession, spreads the play better, and of course, stops the opposition's attacking threat more effectively.
3) Kurt Zouma/Ramires vs Marouane Fellaini:
Marouane Fellaini has been United's most-improved player this season, and scored a very important goal in the derby win last week. He was deployed by Van Gaal to stop Cesc Fabregas in the reverse fixture, and it worked very well. But, with both these players set to assume roles further forward this time around, it is Mourinho who is expected to strategically try and stop the big Belgian. It is a big possibility that Kurt Zouma is played alongside Matic in order to man-mark Fellaini. The Frenchman played in this role in the Capital One Cup earlier this season and excelled. An alternative to Zouma is Ramires, but it is more likely that the Brazilian will be played in the right wing position rather than in central midfield.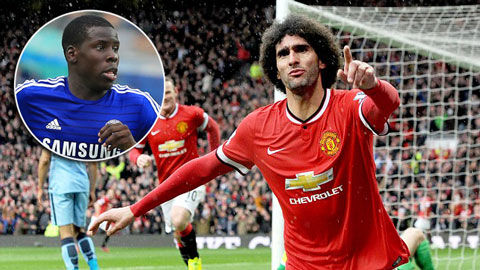 You may notice that no forwards have been mentioned in these battles. This is because this game is expected to be a tight, tactical encounter which will be won in midfield. The two managers will be as much on show as their players, and their long history sets this up as a blockbuster. Both sides will be playing to win, and the team that does emerge victorious will be given a huge boost of confidence by the fact that they outsmarted the opposition.