Join our Telegram channel to stay up to date on the latest in marketing
Chelsea recorded another edgy and narrow win as they beat Stoke City 2-1 at Stamford Bridge to move 7 points clear at the top of the Premier League table. Loic Remy was the match-winner for the second game in a row, as his tap-in midway through the second half proved to be the decider. This was after the two sides went into half-time all-square, following Eden Hazard's penalty and Charlie Adam's humdinger of a strike from well inside his own half.
Here are some of the major talking points from yesterday's game:
1) It wasn't pretty, but Chelsea move one step closer:
Chelsea's early-season swagger has long disappeared. They haven't won a game by more than a single goal since January. They have only kept 2 clean sheets in their last 13 games in all competitions. Since the turn of the year, they have taken the lead in each of their 18 matches, but have been unable to hold on to it on 10 of those occasions. These are clearly not statistics potential champions would want to have. But, despite all that, they are getting the job done. Owing to their form in 2014, Chelsea now need 5 wins and a draw from their remaining 8 games to lift their first Premier League title in 5 years.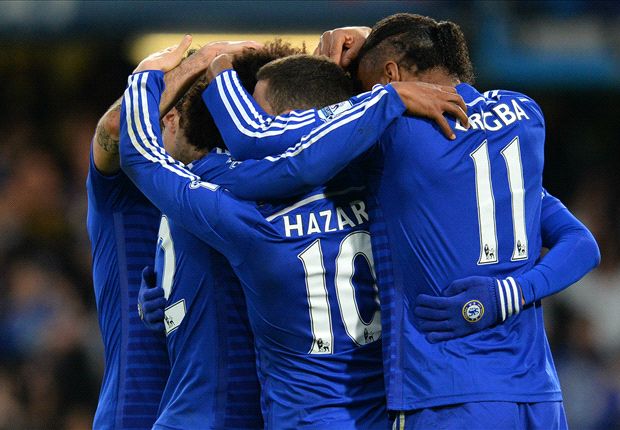 Against Stoke, they looked very good in the first period, playing some great football and creating several chance that weren't taken. When Hazard coolly slotted in a penalty following a foul on Cesc Fabregas though, it was expected to be plain-sailing. But Adam's sensational strike on the cusp of half-time gave the Blues something to think about. They ultimately won the game, but it was extremely uncomfortable.
What is important though, is that they got the three points and moved one step closer to the crown.
2) Eden Hazard shines again:
Eden Hazard has arguably been the most consistent player in the Premier League this season. He was once again at it yesterday, scoring one and assisting the other en route to another Man of the Match performance. The Belgian played for his country in midweek but showed no signs of fatigue and was full of running and energy. He has single-handedly won games for the Blues this season, and Mourinho will be hoping he can keep it up until the end of the season.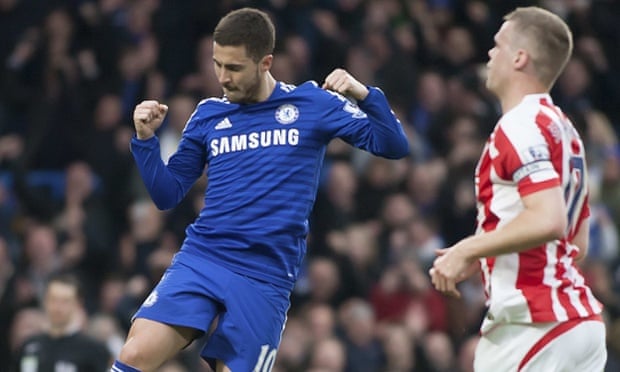 3) Charlie Adam should win Goal of the Season Award:
Charlie Adam has scored a fair share of beauties in his career, but the goal he scored yesterday tops the lot by some distance. From a full 66 yards, well inside his own half, Adam noticed Thibaut Courtois was off his line and unleashed the perfect shot which looped over the Belgian goalkeeper. Some may point fingers at Courtois for being so far off his line, but if someone was responsible for the goal, it was Adam. When David Beckham scored from the halfway line at Wimbledon in 1996, we talked about this for years. This deserves to be seen in a similar light. There have been some fantastic goals scored this season, but none more so than Adam's blockbuster. It was audacity of the highest quality.
4) Diego Costa risk backfires, striker out for at least 4 weeks:
With the scores tied at half-time, Mourinho chose to bring on talismanic striker Diego Costa half-time. The Spaniard pulled out his national side last week with a hamstring injury, and it wasn't sure that he would feature yesterday. The risk backfired, as Costa had to be taken off within 10 minutes of his introduction, and now faces a prolonged period on the sidelines. Mourinho said after the game that he knew it was a risk, but circumstance demanded him to take it.
"If my medical department decide to take four weeks to recover Diego it wouldn't happen, but in football we need risk — high risk — sometimes," he told Sky Sports after the 2-1 victory. "As a manager, with a result at half-time that I don't like, I risk.
If the result was 2-0 or 3-0 he would not play and we give him another week.
We have three strikers. Diego won the right to be first choice but Didier and Remy are there and work for us."
Let us know your thoughts on the game. Follow us on Twitter.