This is the second in a series of European player rankings that will cover each position on the pitch. Each player is assigned to a position based on their natural propensity and where they were deployed this past season, with more weight given to the latter.
Fielding a productive strike force is not always the easiest task in the world; just ask Brendan Rodgers and Liverpool. A lot of money is spent on strikers who often rarely prove worthy of the heavy fee. There are, however, the select few who make their team tick at just the right beat, and below are the top twenty-five strikers in Europe.
Honorable Mention(s)
Luca Toni (Hellas Verona, ITA), Radamel Falcao (AS Monaco, COL), Paulo Dybala (Palermo –> Juventus, ARG), Max Kruse (Monchengladbach –> Wolfsburg, GER), Alvaro Morata (Juventus, ESP)
Midseason Transfer
Wilfried Bony (Manchester City, CVI)
Top 25
25. Aritz Aduriz (Athletic Bilbao, ESP)
The 34-year old had his most prolific season to date, notching 26 goals across all comps as the Basque side's only real scoring threat. His finishing was impressively clinical, with his shooting accuracy among the top of the crop in La Liga at 64.2% of shots on target. Aduriz may have lost a step, but his awareness, guile, and ruthlessness in front of goal make him a tough task to defend.
24. Alexander Meier (Eintracht Frankfurt, GER)
Three years after securing Frankfurt's promotion as the top scorer in Germany's second division, Meier propelled his side to a top-half finish in the Bundesliga by winning this year's Torjägerkanone (top-scoring cannon) with 19 league goals. His predatory instincts in the box secured numerous points for Frankfurt, but he also improved his build-up play towards the end of the season.
23. Charlie Austin (Queens Park Rangers, ENG)
Scoring 18 times in the Premier League is impressive, but doing so for relegated QPR with the minimal service available is downright magnificent. Austin scored all types of goals in an heroic effort to keep his team in the top flight. There is a reason teams up and down the Premier League are showing such interest in the 25-year old.
22. Bas Dost (Wolfsburg, NET)
There are runs of form, and then there is the absolute tear Bas Dost went on after the Bundesliga's winter break in which the Dutch striker scored 13 goals in his first 8 league games. A goal drought followed, but unlike last season, it was not accompanied by struggles to create or harass defenses; Dost has evolved into a complete striker, improving his work rate, passing accuracy, and build-up awareness.
21. Klaas-Jan Huntelaar (Schalke 04, NET)
"The Hunter" had a disappointing campaign in Gelsenkirchen, but it was largely influenced by Schalke's overall inability to create chances going forward. He showed his indisputable class with a brace to defeat Real Madrid at the Santiago Bernabeu in the Champions League and continues to lead the Dutch line in European qualifying.
20. Robin van Persie (Manchester United, NET)
Confidence and fitness left Van Persie during a difficult season in Manchester, but his wonder-strike against Hull and double-digit goal tally showed that the Dutch man has gas left in the proverbial tank. He is still capable of being an excellent striker, but he will need regular time in United's starting XI to recover physically and psychologically.
19. Mauro Icardi (Inter Milan, ARG)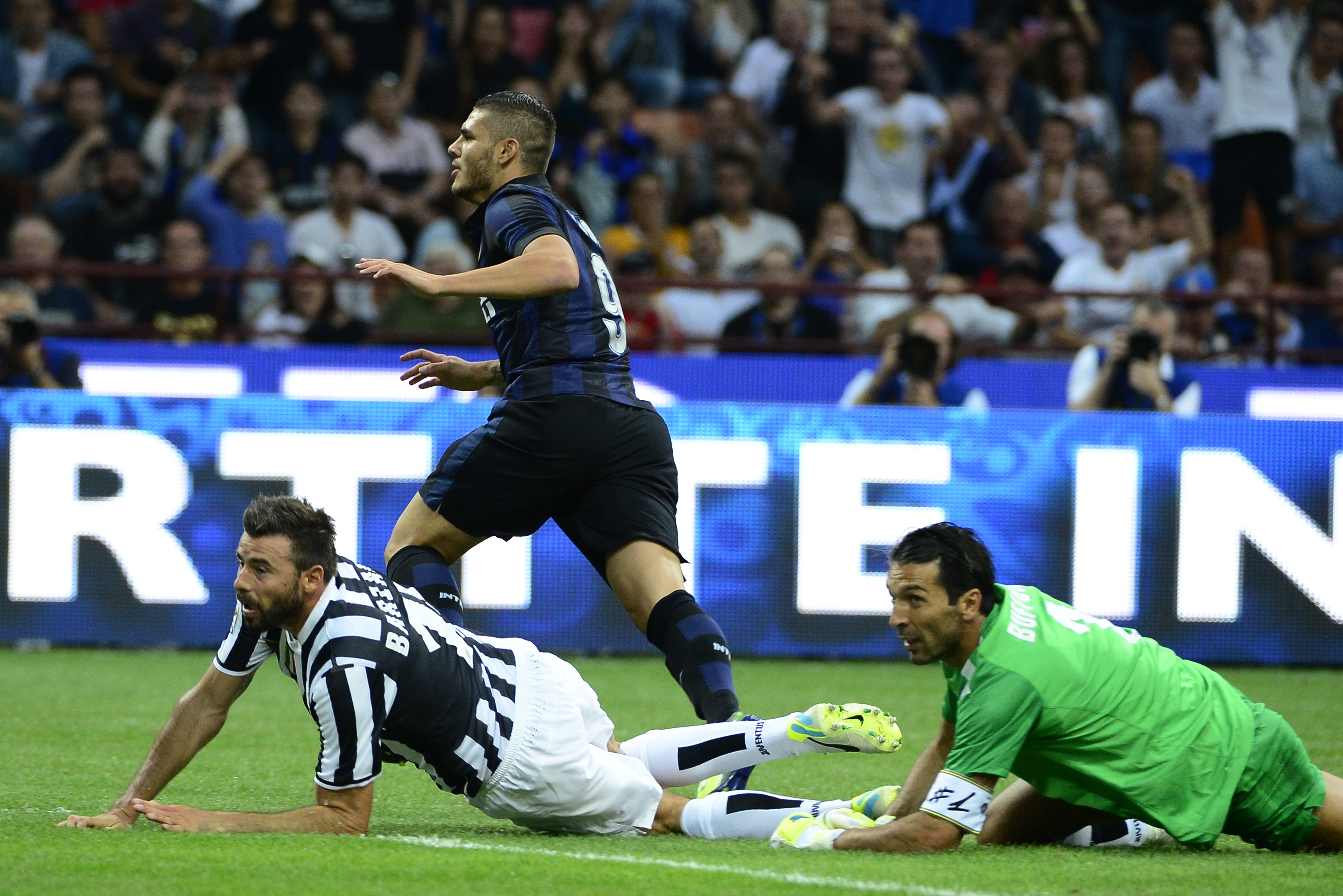 A product of Barcelona's La Masia academy, Icardi was joint-capocannoniere in Serie A this season with 22 goals (27 across all comps). He was lethal in front of goal, making the most of occasionally limited service with his right foot, left foot, and head. There are certainly areas for improvement, like defensive work rate, but he could be special.
18. Jackson Martinez (Porto –> Atletico Madrid, COL)
The Colombian striker's great season for Porto has just earned him a move to Spanish giants Atletico Madrid, where he will look to build off a season in which he scored 32 goals (21 league, 3 domestic cup, 8 Champions League). Martinez is not overly creative but brings pace and physicality to the front line and is adept at finding the back of the net.
17. Olivier Giroud (Arsenal, FRA)
He may not be beloved in North London, but Giroud is certainly one of the top strikers around. While he struggles with his finishing on occasion—only 18 goals across all competitions—his ability to hold up play and find the runs of playmakers like Alexis Sanchez and Mesut Ozil was marvelous. His effort is also commendable, evidenced by the game-high 71 sprints he made against Liverpool in the 4-1 win at the Emirates.
16. Mario Mandzukic (Atletico Madrid –> Juventus, CRO)
It all started so well for the big Croat; his goal at the Vicente Calderon secured a Supercopa victory over inner-city rivals Real, making him an instant hero. He carried that form into January, capping a wonderful five-month run with a magnificent display in the team's 4-0 win over Real in the league. A fallout with Diego Simeone, however, stopped his season right in its tracks, and he will now take his hold-up play, aerial prowess, and physicality to Turin for Italian giants Juventus.
15. Carlos Bacca (Sevilla, COL)
While the Colombian may want to stay in Sevilla after consecutive Europa League titles and a berth in the Champions League, teams around Europe will be lining up to pay his $33.7 million release clause this summer. He had 28 goals across all competitions, including two in the Europa final and 20 in La Liga, good for fifth overall. He makes intelligent runs, finishes clinically, and has an insatiable hunger to win.
14. Pierre-Emerick Aubameyang (Borussia Dortmund, GAB)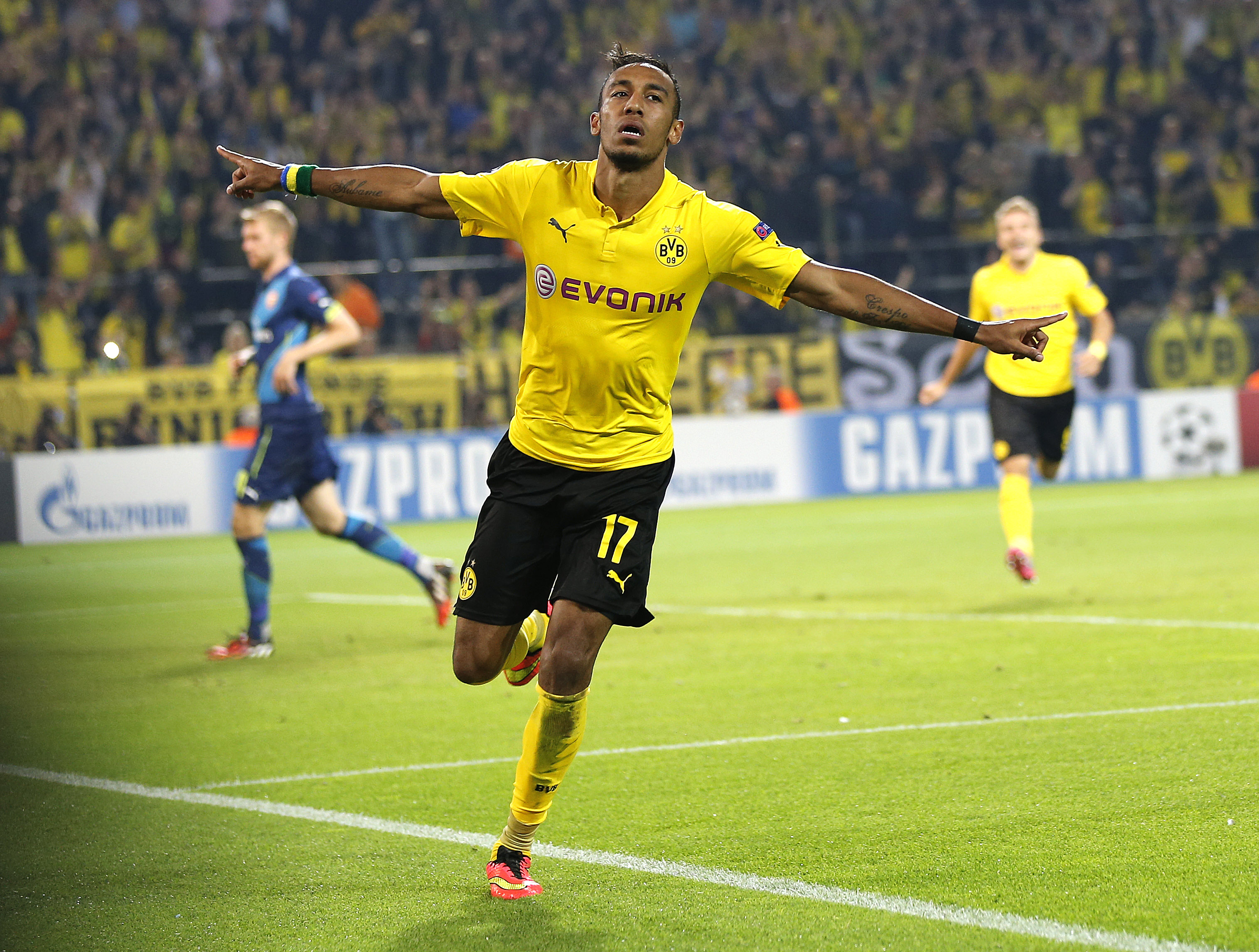 The Gabonese striker was one of the few bright spots at the Westfalenstadion this year, helping Dortmund rise from the Bundesliga cellar to a Europa League spot. He netted 25 goals across all competitions, harassing defenders with his blazing pace and upgrading his finishing. He has also become a threat from set pieces and crosses, improving his awareness in the box.
13. Gonzalo Higuain (Napoli, ARG)
Higuain thrived under Rafa Benitez in Naples this season, scoring 29 times across all competitions. He did not just score a lot of goals; he scored big ones—match-winners against Lazio and Inter, two equalizers against Juve in the Supercoppa, and a Europa League-saving hat trick against Moscow. Interest from clubs like Arsenal and Manchester City show that the rest of Europe took notice.
12. Harry Kane (Tottenham, ENG)
The new face of Spurs burst onto the scene in a big way, knocking home 31 goals to help his hometown team make a dent in several competitions. He was certainly one to rise to the occasion with well-taken braces against Chelsea and Arsenal. Kane can score in a variety of ways and links up well with attacking midfielders; he seems to be the most likely heir to the next man on this list as England's top striker.
11. Wayne Rooney (Manchester United, ENG)
Trying to explain Wayne Rooney's stint in central midfield would be a futile exercise, but the Red Devils' captain still struck 14 times between the Premier League and FA Cup while developing more maturity in orchestrating the team's build-up play. LVG will get his "20-goal scorer" if he just deploys Rooney in the No. 9 role.
10. Edinson Cavani (Paris Saint-Germain, URU)
Cavani had a dreadful first half of the season, but his post-break fallout with Laurent Blanc spurred the Uruguayan as he notched an impressive 18 goals in his final 23 games. He had a knack for big moments as well, nabbing the equalizer in PSG's Champions League home leg against Chelsea before striking in both domestic cup finals to help his team complete a historic French treble.
9. Antoine Griezmann (Atletico Madrid, FRA)
It took some time for Griezmann to settle after his move from Real Sociedad, but once he did, the Frenchman was off to the races. He scored 18 goals in 17 league games from December to April and finished the season with 25 goals across all comps to lead Atleti. He links up well with other forwards and is excellent at making incisive runs to open up defenses.
8.  Alexandre Lacazette (Lyon, FRA)
The new star of Ligue 1, Lacazette fueled Lyon's title challenge with a league-high 27 goals in just 31 games. He earned a gaudy 7.69 rating from WhoScored, putting on the radar of every top team in Europe. He is an accomplished finisher, fearsome dribbler, and impressive athlete, all attributes that will make him successful in a variety of forward roles throughout his career.
7. Carlos Tevez (Juventus, ARG)
He may trade Turin for Buenos Aires soon, but that should not take away from an exceptional season for "Carlito."  He scored 29 goals across all competitions to lead the Juventus front line while contributing heavily to the Bianconeri's build-up play (2 key passes per game). He was a force in the Champions League, especially against high-pressing teams like Dortmund, Real Madrid, and Barcelona.
6. Robert Lewandowski (Bayern Munich, POL)
Lewandowski is one of the most ruthless finishers in Europe and scored 25 times in a crowded Bayern attack despite having a down year. His first touch is sublime, his attitude is team-oriented, and his finishing is precise, making him the perfect man to finish off the explosive attacking moves coming out of Munich.
5. Zlatan Ibrahimovic (Paris Saint-Germain, SWE)
The talismanic striker did not enjoy his best season at the Parc des Princes, but he still compiled an impressive 28 goals across all competitions and was willing to pick the ball up deeper than usual and dictate play from there. While no longer in his prime, the big Swede can still alter the course of any game and is nearly un-defendable when in form.
4. Diego Costa (Chelsea, ESP)
Fitness issues continue to plague the Spaniard, but he was at his goal-scoring best this season with 20 goals in just 26 Premier League games. He held up play well, finding the runs of Hazard, Oscar, and Willian, but showed a far stronger predatory instinct in the box, finding the back of the net with aplomb. A healthier season could see him translate that domestic success back to the Champions League as he once did for Atletico.
3. Karim Benzema (Real Madrid, FRA)
It cannot be easy being an out-and-out striker flanked by Cristiano Ronaldo and Gareth Bale, two goal-scoring experts, on either side, but Benzema continues to perform at a high level and sets his ego aside for the good of Los Blancos. His movement on the shoulders of center-backs causes havoc and his willingness to then lay a ball off for his teammates is admirable. And let's not forget he scored 22 times across all competitions, a solid return.
2. Sergio Aguero (Manchester City, ARG)
Fitness issues seem to follow 'Kun' wherever he goes, but that did not stop him from having an exceptional season on the blue side of Manchester. He scored 26 goals to grab the Premier League Golden Boot while adding 6 more in the Champions League, including a match-winning hat trick against Bayern Munich. He is one the hardest players in the world to tackle and his finishing is as deadly as ever.
1. Luis Suarez (Barcelona, URU)
Suarez's post-World Cup ban seemed to only increase his hunger (pardon the pun). He compiled a remarkable 25 goals and 17 assists in 37 games for the Blaugrana, meshing perfectly with Messi and Neymar. He scored goals, ran defenders out of shape, and held up play beautifully. The Uruguayan displayed the kind of selflessness this season that is often sorely lacking in No. 9s.