In some incredible news reported by the Telegraph, Barcelona will be willing to sell striker Pedro for a cut-throat price of £7 million in the summer. The Spaniard has been the target for a whole host of Premier League clubs including Arsenal, Chelsea, Liverpool and Tottenham Hotspur.
The 27 year-old, who was not too long ago one of Barca's most important first-team players, has found himself sitting on the bench for the majority of this season. He has fallen in the pecking order as the trio of Lionel Messi, Neymar and Luis Suarez have been running riot. Despite his minimal playing time though, Pedro has managed to score 11 times in all competitions.
He may not be one of the Catalans' most high-profile products, but his quality is undoubted. Adept at playing either on the left or the right, Pedro has scored 98 times in 315 appearances for Barcelona in the last 8 seasons. His trophy cabinet, consisting of 5 La Liga titles, 2 Copa Del Reys and 2 Champions League titles, is one anyone would be envious of. He was an integral part of Pep Guardiola's all-conquering squads of 2009 and 2011, and also scored the opening goal in the latter year's Champions League final against Manchester United. Along with that, of course, he was also part of the Spanish teams that won the 2010 World Cup and the 2012 European Championships.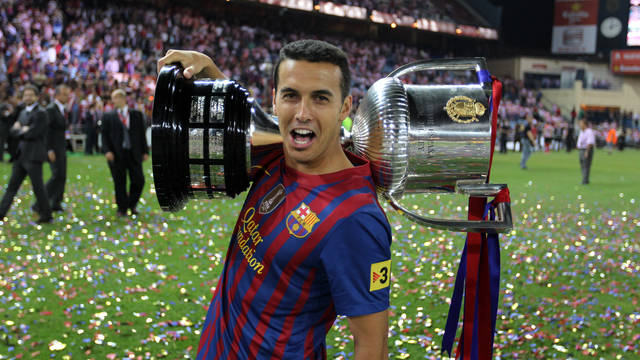 Arsenal and Liverpool both need to sign a striker this summer, and the opportunity to sign someone with Pedro's quality and experience at £7 million won't come by too often. Even though he has not played too much as an out-and-out forward, he is as clinical as they get in front of goal. Also, with both these sides looking to play open, expansive football, Pedro would fit the bill perfectly, being a product of the La Masia academy.
For Chelsea, who are looking to sign a third striker for the next season, Pedro will be a real bargain. Jose Mourinho will certainly consider this option, as one can never really have enough goalscorers in the side. He may be a much better option than Antoine Griezmann, for whom the Blues will have to pay £43 million.